Back Then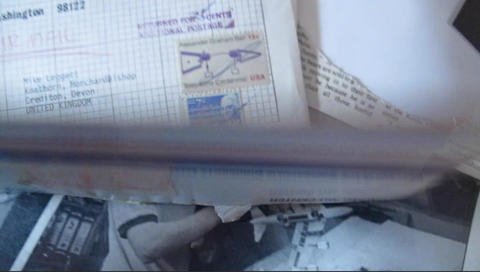 A temporal collage traversing the ephemera of past travels.
The art work challenges language in printed, written and spoken form, as the means for recall, or even retelling. A procedural approach to the recorded material establishes four time periods: image representations of time past revealed through; an elapsed performance of the physical excavation of the paper remains, of the day of image capture; the later organisation of the digital data, incorporating voice, pauses, reversals etc; finally, the screening to an audience, making meaning.
As ephemera gathered over many years, my motivation for keeping the collection remained elusive. At first the range of colours, textures, shapes and sizes were stored for later fixing onto card or board, following an aesthetic practiced by artists over many generations. The collection was added to gradually, but never reviewed, simply accumulating under the slope of the desk; once full to spilling, the collecting stopped. The desk meanwhile travelled from place to place, traversing counties, and then countries, and then between cities and neighbourhoods.
The day of reckoning eventually arrived and the recording of the disposal of the collection was made. Another period elapsed. Then it was time to make the collage, as a moving image art work.
"Objects hang before the eyes of the imagination, continuously representing ourselves to ourselves, and telling the stories of our lives in ways which would be impossible otherwise." S.M.Pearce

Premiered at the Australian International Experimental Film Festival, Melbourne.