Tales Gates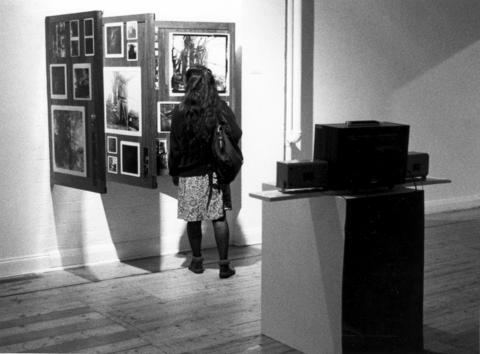 The installation was for EXPERIMENTA, Australia's First National Exhibition of Art, Film and Video, presented by Modern Image Makers (MIMA) in November 1988.
A significant survey of the work of moving image artists at the time, it was staged across several venues in the city, included a series of live performances as well as screenings and was accompanied by an impressive catalogue that included essays by Adrian Martin, Fiona Mackie, Arthur Cantrill, Ross Gibson, Kris Hemensley and George Alexander, contributing to re-dressing the minor standing this group of artists had at the time within the national art scene.
The Tales Gates installation combinedan earlier photographic work of the same name with a video and sound installation facing the work, which was hinged to the wall. The video was based on the photographs seen in the panels, intercut with red, green and blue field colours, and a soundtrack made of some stories told by my neighbour at the time the photographs were made.